Miss Alysha Recommends...
Item request has been placed!
×
Item request cannot be made.
×
Processing Request
Ms. Alysha says make it a September to Readmember!
Picture Book 
Goodnight Moon
By Margaret Wise Brown
Synopsis: In a great green room, tucked away in bed, is a little bunny. "Goodnight room, goodnight moon." And to all the familiar things in the softly lit room -- to the picture of the three little bears sitting on chairs, to the clocks and his socks, to the mittens and the kittens, to everything one by one -- the little bunny says goodnight.

In this classic of children's literature, beloved by generations of readers and listeners, the quiet poetry of the words and the gentle, lulling illustrations combine to make a perfect book for the end of the day.
The Girl Who Circumnavigated Fairyland in a Ship of Her Own Making
By Catherynne M. Valente
Synopsis:  Twelve-year-old September lives in Omaha, and used to have an ordinary life, until her father went to war and her mother went to work. One day, September is met at her kitchen window by a Green Wind (taking the form of a gentleman in a green jacket), who invites her on an adventure, implying that her help is needed in Fairyland. The new Marquess is unpredictable and fickle, and also not much older than September. Only September can retrieve a talisman the Marquess wants from the enchanted woods, and if she doesn't . . . then the Marquess will make life impossible for the inhabitants of Fairyland. September is already making new friends, including a book-loving Wyvern and a mysterious boy named Saturday.
With exquisite illustrations by acclaimed artist Ana Juan, Fairyland lives up to the sensation it created when the author first posted it online. For readers of all ages who love the charm of Alice in Wonderland and the soul of The Golden Compass, here is a reading experience unto itself: unforgettable, and so very beautiful.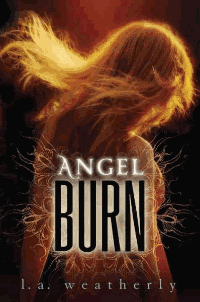 Young Adult Novel
Angel Burn
By L.A. Weatherly
Synopsis: Angels are all around us: beautiful, awe-inspiring, irresistible.
Ordinary mortals yearn to catch a glimpse of one of these stunning beings and thousands flock to The Church of Angels to feel their healing touch.
But what if their potent magnetism isn't what it seems?
Willow knows she's different from other girls. And not just because she loves tinkering around with cars.
Willow has a gift. She can look into people's futures, know their dreams, their hopes and their regrets, just by touching them. But she has no idea where she gets this power from.

Until she meets Alex…
Alex is one of the few who know the truth about angels. He knows Willow's secret and is on a mission to stop her.
The dark forces within Willow make her dangerous – and irresistible.
In spite of himself, Alex finds he is falling in love with his sworn enemy.